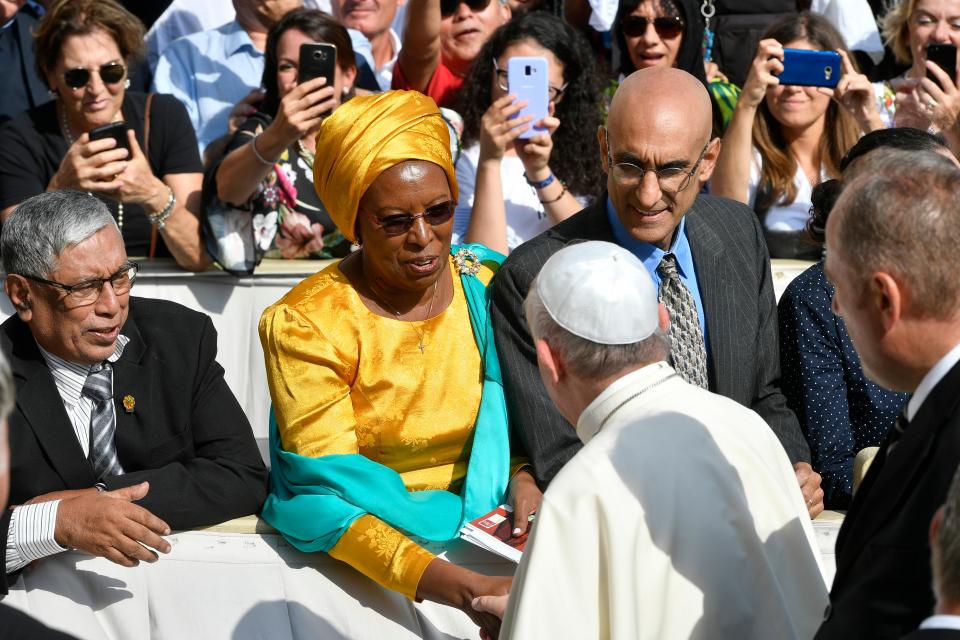 Maison Shalom Founder, Marguerite Barankitse, a Burundian humanitarian in exile since 2015, was received in audience by Pope Francis.
As part of a mission with the co-founders of Aurora Humanitarian Initiatives, Maggy, winner of the 2016 "Aurora Prize for Awakening Humanity" and the other two, Tom Catena and Mr. Aung 2017 and 2019 laureates, were received in audience and blessed by Pope Francis on October 2, 2019.
Since the beginning of the current crisis in Burundi, Marguerite Barankitse, accused of being rebel or criminal because she denounced the killing of children and adults and had to flee Burundi because she was on the list of troublesome people to be eliminated, an international arrest warrant was issued against her by the Bujumbura authorities.
During her exile, she has already been received in audience by Pope Francis twice, awarded by many foundations and she had Honoris Causa Doctorates in South Africa, USA... and invited to many international conferences. The recognition of his work through Maison Shalom allows the international community to understand a little more the crisis in Burundi, the problem of refugees in general and Burundian refugees in particular.