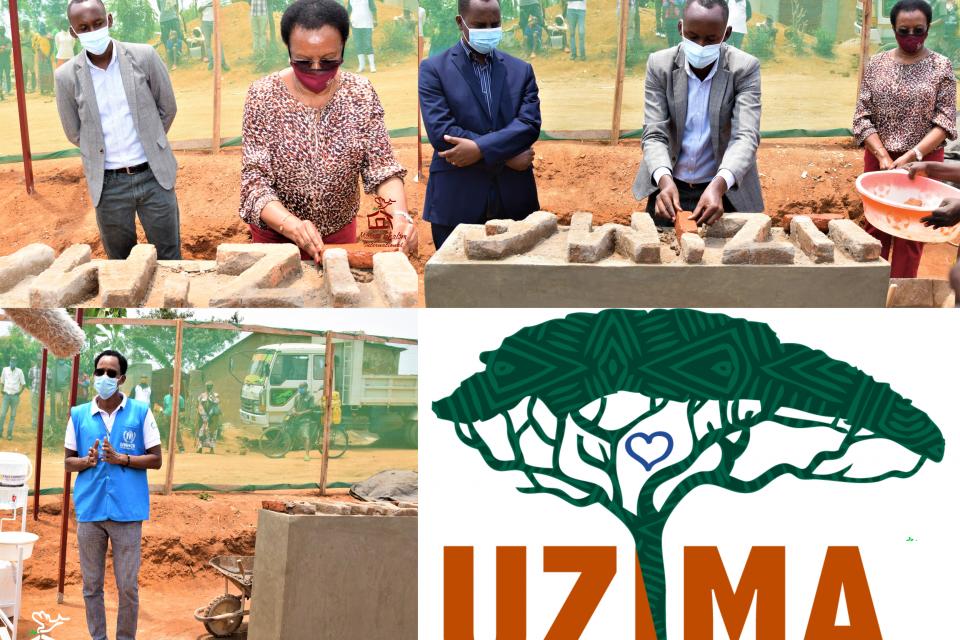 The foundation stone laying of the Uzima sanitary pad production unit took place on September 4, 2020 in Mahama sector, Kirehe district. The ceremony took place in the presence of the founder of Maison Shalom, Mrs. Marguerite Barankitse, the country director of Maison Shalom, Mr. Richard Nijimbere, executive secretary of Mahama sector, the head of Mahama camp (MINEMA), the public health coordinator of UNHCR, other partners and beneficiaries. 
After the opening remarks by the head of the Mahama office of Maison Shalom, the guests of honor were invited to lay the foundation stone that will mark the official beginning of the construction of UZIMA. 
This unit comes to solve many challenges encountered by the Mahama community, whether refugees or locals. These sanitary pads will help women and girls who generally cannot afford sanitary products due to financial difficulties. As one of the beneficiaries confirmed: "There are many girls who have to use other unhygienic methods that make them uncomfortable and may cause them other problems." 
The main objective of the project is to restore the dignity of women and girls. We have observed the difficulties that girls face, such as having to miss school due to lack of proper hygiene products during their menstruation or feeling ashamed due to the stigma and taboo associated with menstruation. 
As Ms. Marguerite noted: "The production unit will also employ many women from the host community and the refugee camp, which will improve their living standards". She also added that: "The sanitary pads will be sold at a very affordable price and will be reusable, unlike other products available on the market".
This project was very well received by the Executive Secretary of Mahama Sector, Mr. Claudius Karahamuheto, who stressed that "this major project reinforces an existing initiative of the Government of Rwanda called "icyumba cy'umukobwa" - the girls' room - which has contributed to significantly reduce the number of girls who have to miss school for many days because of their menstruation".
We continue to thank all our partners around the world who continue to support our communities of girls and women. As Maison Shalom, we will continue to be an advocate for girls and women.