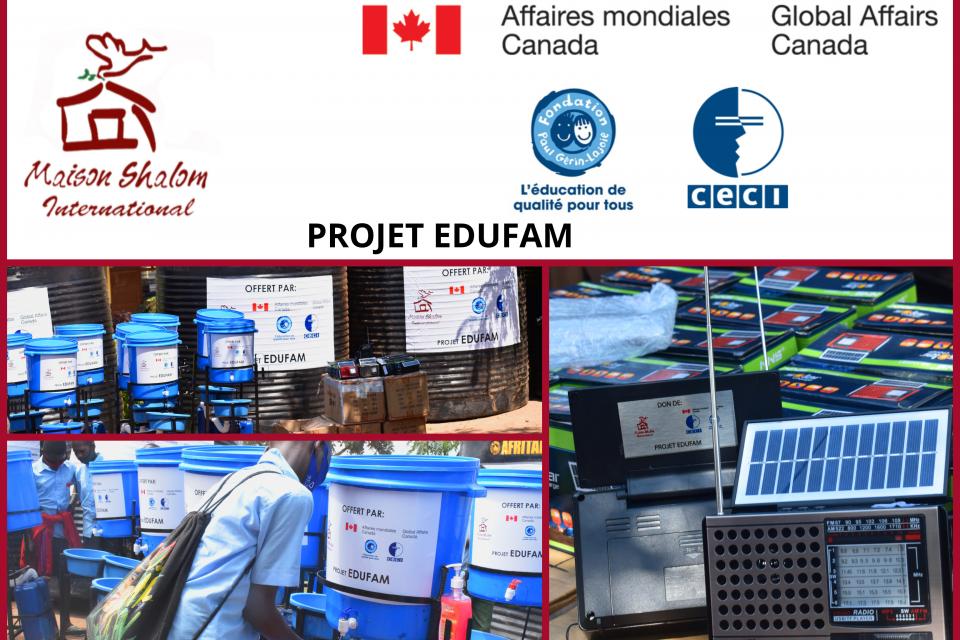 On December 16, 2020, with cases of COVID-19 continuing to emerge in the country, Maison Shalom, supported by the FPGL ( Fondation Paul Gérin-Lajoie) in consortium with CECI (Centre d'étude et de coopération internationale) and funded by AMC ( Global Affairs Canada), donated 274 solar radios to the neediest girls in the Mahama refugee camp and those in the host community. These solar radios are also equipped with flashlights that will allow the children of these families to revise what they have learned in school.
"We have also donated 14 rainwater collection tanks of 5,000 liters each, 20 hand washing and surface cleaning kits to partner schools in the surrounding area of the refugee camp. These actions were carried out within the framework of the EDUFAM project" (Richard Nijimbere, Country Director of Maison Shalom). 
EDUFAM was established for the increased empowerment of girls, adolescents and women through education, especially refugees and other vulnerable people. 
Due to the COVID-19 pandemic, actions were taken to contribute to coronavirus prevention and distance learning for students through radio programs broadcast by the Rwanda Education Board (REB).
The 5 partner schools have a total of 23,445 students who will directly benefit from this support. 
The representatives of the beneficiaries, the local administration and the Ministry of Education thanked Maison Shalom and its partners for this timely support and reiterated their continued good collaboration.