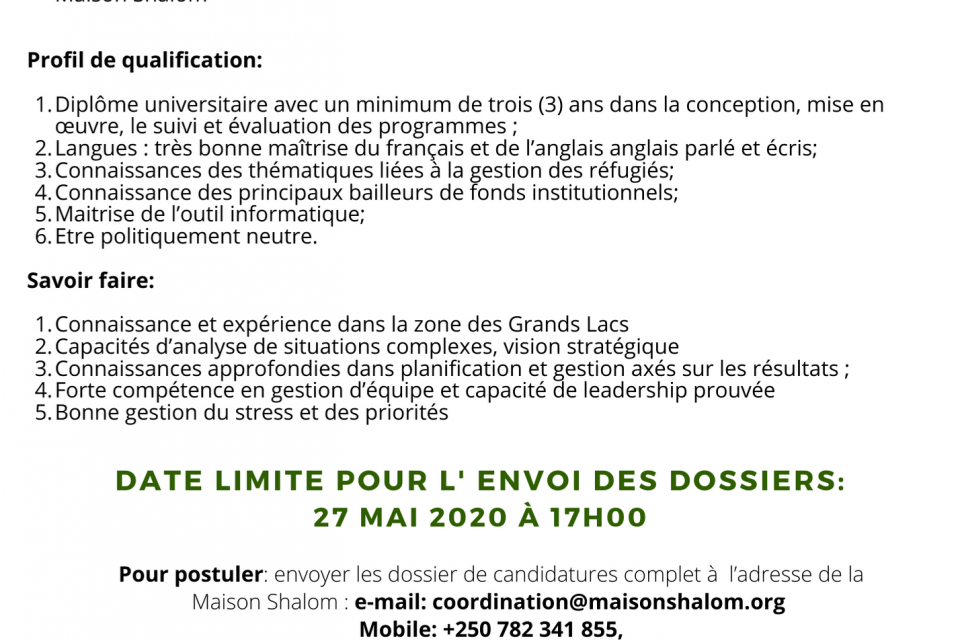 Maison Shalom wishes to recruit a Programme, Monitoring & Evaluation Manager who meets the following requirements:
Responsibilities:
Leading the deployment of Maison Shalom's strategy in its area of intervention.
To guarantee the proper implementation of programmes in the action area, within the means and frameworks provided.
Manage and motivate your team
Overseeing the effective sharing of information related to Maison Shalom's programs
Qualification profile:
University degree with a minimum of three (3) years in programme design, implementation, monitoring and evaluation;
Languages: Very good proficiency in spoken and written French and English;
Knowledge of refugee management issues;
Knowledge of the main institutional donors;
Computer skills;
Be politically neutral.
Know-how:
Knowledge and experience in the Great Lakes region.
Ability to analyze complex situations, strategic vision
In-depth knowledge in results-based planning and management ;
Strong team management skills and proven leadership capacity
Good stress and priority management
Documents to Submit:
Cover letter;
An updated and signed curriculum vitae;
A copy of the highest diploma;
Letters of recommendation if available, proof of services rendered;
A copy of identity card;
Expected net salary offer.

Deadline for submission of applications: 27 MAY 2020 at 17:00.
To apply: send the complete application form to Maison Shalom's address: coordination@maisonshalom.org